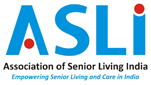 02.06.2020.
Dear Members,
In the last month we have seen two more new members join ASLI, Mr. Lalit Bhutoria of Gems City & Dr Sushma Chawla from HOPE Ek ASHA. I would like to welcome both of you and hope you can find ASLI worthwhile and you can contribute to ASLI at the same time. If I can be of any help please feel free to ask.
We had a good meeting with NAThealth and we have agreed to partner with them on few of the initiatives so that we can have one voice to the government and hopefully with resources being utilized together we can get better results. These are the five initiatives with names of ASLI member responsible:
Financing – insurance, annuity based models – Mr. Rajagopal
Govt. policies, laws and regulations :notably GST-Mr. Deepak Gupta,Mr Ankur Gupta, Mr. Rajit Mehta
Community based care -Mr. Sri Kumar
Quality standards, protocols and accreditation; licensing -Mr.Adarsh Narahari, Mr. Shashank Paranjape
Talent skilling and supply – Mr. Amit Vaidya
We also had great webinars on senior living and assisted living and home care where we got 100% registration for the first one, which is a great feeling of the work we are doing and the demand . I would also like to thank Neha Sinha for taking up a great initiative to have a round table discussion on Post Lockdown SOP. We should also be all thankful to Moni as she has been assisting us in organizing these exceptionally well managed & insightful webinars and sessions. Genesis also continues to educate us on services and care, we definitely would improve our services by learning from the best in the industry.
I was also very happy with the fact that in our board meeting this quarter we got every board member joining in and we had a very healthy discussion. As an association we are going to continue our energy right now in increasing the number of right members and doing a lot of education and promotion of senior care. The minutes of the board meeting will be shared with you all soon.
In the coming month we are doing a survey on how our residents are feeling which would definitely help in giving us great insights about our seniors. Initiation of a digital directory has been a small step but a right step in making this platform a well connected one. We have compiled some data of our members which will be shared very soon with all of you. So looking forward to the video on "We Care" with all of us in it together.
Lets continue to make ASLI stronger and let's keep learning from each other.
Always keep smiling 🙂
Ankur