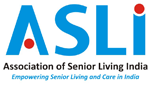 Dear friends,
Another interesting month where lots of things are happening and I am sure lot of you are figuring out your business challenges and delivering something exceptional. We have seen many articles and report by Anarock on the growth of senior living in India, which is such a great feeling and hopefully we all grow and make a difference in our customers life.
From an ASLI prospective we are working on the below and taking it forward:
1)On partnership with DWSSC for training for caregivers so that we can hire from them directly – they have an extensive course, if you want go through the material you can ask Bani
2)We are looking at doing online B2B & B2C event and an exhibition with Unmukt and things have started taking shape this should happen in the first week of December 2020.
3)Mr. Babu Joseph is developing concept of the area of creating senior living homes for customers to experience new location new projects(Mr. Mansoor Dalal, Mr. Srikumar, Mr. Mohit Nirula & Mr. Vineet Verma are part of the task force)
4)Mansoor bhai is working on an accreditation program
5)Mr. Shashank Paranjape is working on a note on ways to ensure members follow ASLI's code of conduct
6)We are looking for someone to help Bani with ASLI website.
If you have any thoughts on the above please feel free to share. I hope all of you are interacting and forming business partnerships or learning from each other.
Always keep smiling 😊
Ankur