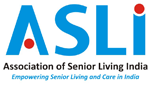 Dear friends,
Thank you so much for joining the AGM and participating whole heartedly.
I am really excited about the future of ASLI and the way we can shape the senior care industry. The minutes of the AGM have been shared. Lots of discussions have happened and the gist is as below:
1) ASLI Unmukt senior care event
2) DWSSC MOU
3) Accreditation standards
4) Senior tourism
5) Code of conduct
6) ASLI Nathealth White paper
7) MOSJE Meeting
8) ASLI's mindset on joining other association
Please give your suggestions on the above, anything you want to be a part of, hiring requirement in care giving field etc. I also want to welcome new members Mr. Apratim Chattopadhyay from Support Elders , Mr. Harish Khatri & Ms. Moqierish Tak from India Assist And Mr. Nithin Rajan from Ananta Living . Would also like to welcome Shweta who has joined us to help make our annual event a success. It's such a pleasure to see the ASLI community growing and becoming stronger.
Thank you and always keep smiling 😊
Ankur