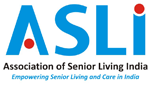 Dear friends,
I am excited about finally launching our B2C online exhibition on December 12th and 13th and part of the same event we have a B2B seminar on the 11th of December followed by press conference. We are happy to partner with Unmukt for this seminar cum exhibition. I think it would be first of its kind that we would be trying to attract such a large crowd online for the senior care industry. The success of this exhibition and seminar would be dependent on your participation. I think the more of us who will participate we will be able to create a larger magnet for more consumers to come in which will benefit all of us. If you are interested in the same please get in touch with Bani or Moni.
In the B2B seminar we have invited Mr. Durga Shankar Mishra from Ministry of Housing & Urban Affairs, waiting for his confirmation. If anyone knows him it would be great if you can give him a push.
We are so excited so many of our members have approached DWSSC for their requirement and if you are a member of ASLI you do not need to do any other agreement with them. However please keep Bani in the loop it would help combine some requirements, the information she has will help us get better results with our partnership.
As always every month our ASLI members are growing and I would like to welcome Mr. Nithin Rajan from Ananta Living.
Always keep smiling 😊
Ankur