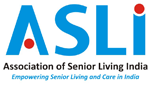 Dear friends,
Last month has been all about the preparation for the upcoming ASLI B2B and B2C conclave. Hopefully this conclave will give us a push in the right direction for the future. We are happy to announce that for the B2B we have been able to get Durga Shankar Mishra PS, UDH and Mr. Subrahmanium PS SJE as speakers. In the B2B we are also been able to get Standard Wise of Australia as our sponsors and they are also announcing their tie up with ASLI and getting standards for senior living into India. A lot of the work for the same has been done by Mr. Dalal.
For the B2C we have been able to get Sister Shivani as the inaugural speaker. I would request all of you to please participate in the B2C activity either through a sponsorship or by being part of the exhibition. The more of us being part of this event will make the event even bigger.
I also request all of you to start by liking our ASLI page on facebook and Linkedin and sharing the information about our event as and when it gets posted. The links are below.
I am sure we will have a successful event if we all participate and give our energy in the same thing. I already see the team working hard and trying to make a large difference for the senior care industry.
Always keep smiling 😊
Ankur