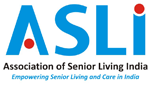 Dear friends,
It's such a great feeling to see the work ASLI members are doing during these tough times. During this time, I have been a great learner from all the interactions we have had, and each one of us is creating a new benchmark in servicing the seniors. I think ASLI was created with the mind to create a network of learning and creating higher standards of service. We have come alive.
The information sharing and the transparency you are showing already talks about the future of the industry is bright. We are going to be the role models from the way ASLI and the senior care industry is shaped and I am truly proud of the work we have all done. I could not believe that Emoha, Primus, Vardaan, Care Continuum, Seniority started free delivery to seniors. This is when humanity and business come together and create something beautiful. Thank you.
During COVID 19 we have already done two webinars directly; huge thanks to Rajagopalan & Adarsh for organising it terrifically. Many more are being done by Unmukt and Genesis, which is a lot of learning and we should encourage and do more. I hope in the coming months as we are able to scale ASLI we will require all your assistance in creating more programs. Secondly we saw Sri, Bless homes and others create more PR for Senior care industry. We are also looking at working with NATHEALTH and Austrade in the future.
We have made an SOP for senior living and care services for COVID 19. A special thanks to Col. Sridharan and the EMOHA team. We have shared the same SOP with the Ministry of Housing & Urban Affairs and Ministry of Social Justice & Empowerment  and we have also requested for GST benefits during this difficult time for seniors from Finance Ministry. These actions have not given any result but we are hoping that soon the government will recognize ASLI.
For any organization to be successful we have to have finance and good people. We are lucky to have Bani who has been working with us and giving her 100% to make sure ASLI is successful, I do not think we could be luckier. She has been able to get new members which has added strength of good people joining and finance which is required to sustain the organization. Obviously the balance sheet of ASLI is very weak and we all will have to do our bit to make sure we stay strong and are able to achieve our goals. Please do promote more membership and assist in anyway you can.
At this time we have to give to ASLI and not look at what we are getting back. We are the first generation and that means we will have to go through some pain to make ASLI successful.
I have had the opportunity to meet lots of you, but still some have not got a chance to meet. I am sure all of you would have some feedback for ASLI, Please feel free to reach out to me directly @ +9198******** or email bani@asli.org.in.
Regards
Ankur